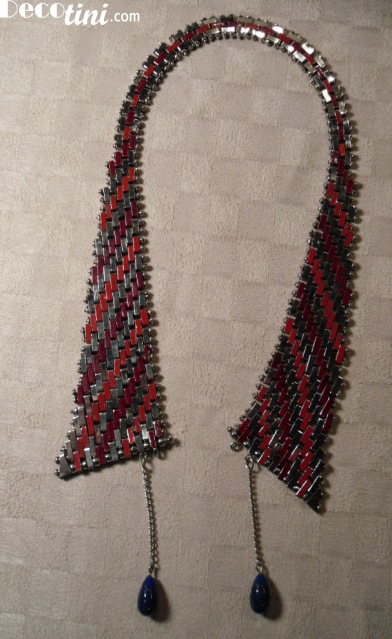 It just doesn't get much better than this! A Classic machine age chrome linked necklace with 2 colors of applied enamel.
Center front closure.
Two attached "lapis" blue/gold tear shaped glass beads dangle on a thin chain.
You can see this necklace on pages 122- 123 of Art Deco Schmuck: by Christianne Weber. This style of necklace is referred to as "Kragen-Colliers", or "Collar Necklace". The year of production is given as 1931.

Measurements: Approx. 16" around. The widest point in the front measures 2" across.
Condition: Condition is excellent. The enamel is excellent, with very little wear. No chrome loss. You can see a few enamel paint spatters on the enlarged view, not visible at normal range.

This is very comfortable to wear, and generates a lot of comments from people who see it.
Attributed to Jakob Bengel Company, Germany, 1931.
MORE PHOTOS- These will open in a popup window.
Click here for closeup of beads
Click here for backside
Click Here for
* Click Here for pages 122-123 of Art Deco Schmuck


Contact Decotini

How to Order from Decotini
Free Shipping and Insurance (USA ONLY) on all orders over $200, except where noted.
*Orders $199 and under, please add $10 shipping.
Shop with confidence. We offer a full money back guarantee.
Decotini.com has been on the internet since 2005.
Decotini has been on eBay since 1999. Please check our rating.
Decotini has been on Etsy since 2009.