Price upon request.
Here's something you don't see everyday! Rarely seen, not even in the books, Decotini is proud to offer up a set of 4 Authentic Hubert Harmon Retro Santa Claus Poodle Mania Tumblers.
Santa and Poodles......and Bones, oh my!
Star Shaped Santas with a dog bone tied to his hat.....delightfully whimsical!
Red and White on a clear background, these defy description. You simply must take a look for yourself.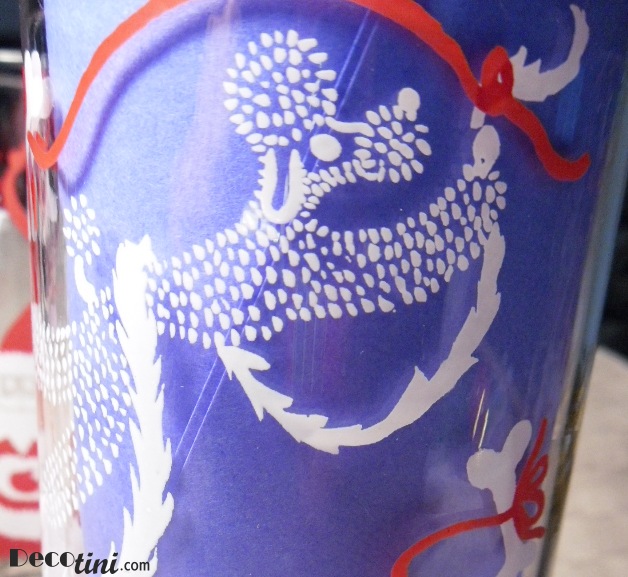 These do carry some sort of maker's mark on the bottom. However, it was impossible to photograph, and also impossible for us to identify. I tried to match it up to some Atlas marks, but I am not confident enough to say for sure. Atlas did the PoodleMania plates, so it would seem logical for the company to do the glassware. Who knows? At any rate, the actual artwork is signed on every glass, HUBERT HARMON in script. The graphics are wonderfully irreverent and so much fun.
Please note the purple paper was used for better viewing of the design.
MEASUREMENTS: 5.5" Tall by 2.5" diameter.
Quantity-4 glasses
CIRCA 1950s


Contact Decotini

How to Order from Decotini
Free Shipping and Insurance (USA ONLY) on all orders over $100, except where noted.
*Orders $99 and under, please add $10 shipping.
Shop with confidence. We offer a full money back guarantee.
Decotini.com has been on the internet since 2005.
Decotini has been on eBay since 1999. Please check our rating.
Decotini has been on Etsy since 2009.